Biodiversity
Hunters share a passion for nature and biodiversity, their primary concern being far greater than their future ability to hunt but the ability for generations to come to appreciate nature in the raw. This is why hunters engage every day right across Europe to conserve nature and biodiversity.
The
EU

Biodiversity Strategy 2020

The European Commission has adopted an ambitious new strategy to halt the loss of biodiversity and ecosystem services in the EU by 2020. There are 6 main targets and 20 actions to help Europe reach its goal. Biodiversity loss is an enormous challenge in the EU, with around one in four species currently threatened with extinction. http://ec.europa.eu/environment/nature/biodiversity/comm2006/2020.htm
The Biodiversity Manifesto
FACE and its Members developed The Biodiversity Manifesto. It reflects the rigorous and active commitment made by FACE, its Members and the 7 million European hunters they represent to ensure that hunting is sustainable and contributes positively to biodiversity conservation.
The FACE Biodiversity Manifesto aligns itself with the EU Biodiversity Strategy 2020, directly addressing 4 of its 6 targets feeding into the 2020 headline target. The 34 action points address a host of EU biodiversity priority areas and promote cooperation with other sectors and stakeholders such as farmers, land and forest owners, conservation NGOs and public authorities.The Biodiversity Manifesto will contribute to demonstrating the role and contribution of hunting for biodiversity to policy makers and the public, as well as to coordinating and enhance efforts carried out by European hunters in line with international conservation priorities.
This is our commitment.
"A great achievement is to bring together representatives of the Commission, Parliament, NGO interest groups & associations that often do not share the same opinion on the role of hunters. This dialogue is essential for change, and together with FACE we have created this biodiversity dialogue which will continue and lead to future goals." - MEP Giancarlo Scottà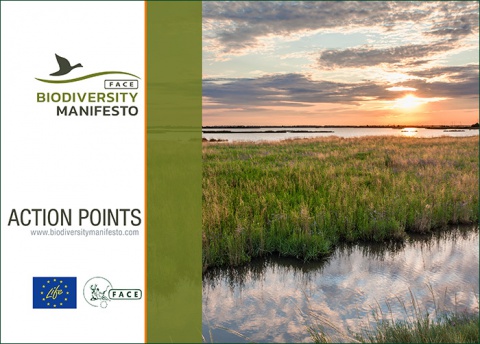 Reporting on the Biodiversity Manifesto
FACE publishes a yearly report presenting the results of the Biodiversity Manifesto process while demonstrating European hunter's contribution to nature conservation.
2016 was dominated by discussions about the Fitness Check of the Birds and Habitats Directives, a process which set out to check whether these directives are 'fit for purpose'. In December 2016, the process was concluded with EU Commissioners announcing that an implantation action is to be developed. For this reason, FACE decided to focus the 2016 Biodiversity Manifesto report on hunters' contribution to the implementation of the nature directives.
In 2015, while facing the Mid-term review of the EU Biodiveristy Strategy 2020, FACE developed the report of the Biodiversity Manifesto highlighting European hunters' contribution to the EU Biodiversity Targets.
DOWNLOAD

THE

BIODIVERSITY

MANIFESTO

2013