Nature Conservation
The conservation issues dealt with by FACE cover the ongoing implementation of the EU Nature Directives and new policy developments related to nature and biodiversity.
These issues are of importance to FACE as they influence national hunting legislation and in particular habitats and site protection regimes. FACE ensures that the role of sustainable use and incentive-driven conservation is recognised in the creation and implementation of environmental policies.
FACE works together with its Members to share expertise for environmental policy development and implementation to benefit hunting and conservation. This expertise is supported by a knowledge base gained through monitoring research developments and maintaining close ties with our strategic partners.
DOWNLOAD THE FACE BIODIVERSITY MANIFESTO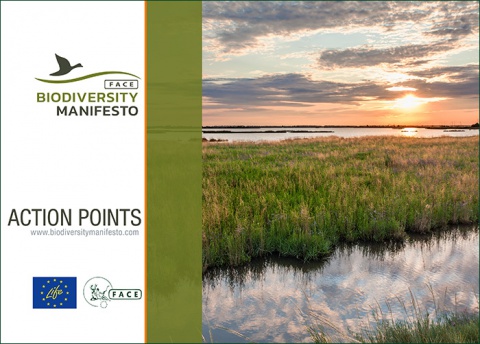 THE FACE BIODIVERSITY MANIFESTO WEBSITE
See how hunting benefits conservation and share your project! 
Reporting 
FACE publishes a yearly report presenting the results of the Biodiversity Manifesto process while demonstrating European hunter's contribution to nature conservation.
2016 was dominated by discussions about the Fitness Check of the Birds and Habitats Directives, a process which set out to check whether these directives are 'fit for purpose'. In December 2016, the process was concluded with EU Commissioners announcing that an implantation action is to be developed. For this reason, FACE decided to focus the 2016 Biodiversity Manifesto report on hunters' contribution to the implementation of the nature directives.
In 2015, while facing the Mid-term review of the EU Biodiveristy Strategy 2020, FACE developed the report of the Biodiversity Manifesto highlighting European hunters' contribution to the EU Biodiversity Targets:
THE FACE BIODIVERSITY MANIFESTO 2013