Katarina Stern, from Latvia
FACE is sharing the stories of women hunters to learn more about their motivations, challenges and views. We thank the women hunters who have already shared their experiences with us through our questionnaire. Here's a snapshot of Katarina Stern from Latvia.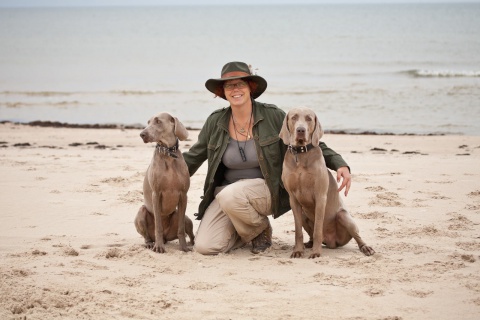 "My name is Katarina Stern. I was born in Riga, the capital of Latvia, but all my life I lived in Liepaja. My first word in this world was "horse": I love these animals with all my heart. My other big passions are dogs, now I have two Weimaraner, which are hard working hunting dogs. Yes, I am a hunter!
When I bought my Weimaraner, someone advised me to train him for field trials so I read all about it, watched YouTube videos and decided to try. At that time (8 years ago) in Latvia, there was nobody training pointing dogs, so I had no teacher, no examples: I did it by myself. My first dog earned a number of degree diplomas, but I knew if I wanted to reach the highest level, I must start hunting.
Three years ago, I started attending hunting courses where suddenly I had a big revelation: This is the life I was made for! Now, I hunt almost every week and I've been hunting in Latvia, Estonia and Lithuania. I have some beautiful trophies and lots of stories! For now, I am very content, but someday I think I will go further, to achieve some unusual trophies and impressions!"
Katarina works as a journalist for the hunting magazines Medības (Latvia) and Medžiokle (Lithuania).
If you want to be the next one to appear on www.face.eu, please answer to our questionnare here http://bit.ly/2aDO9pH
** Photo by Irina Kryuchkova