Game Guard Body of hunting organisations in Greece tackles illegal killing
In 1970 the Greek hunting organisations founded the Game Guard Body. They did this with one basic aim: To enforce environmental legislation in order to protect wildlife species and their habitat, prevent biodiversity loss and control wildlife illegal activities. 
Game guards are specially trained and continuously educated through state-of-the-art seminars and workshops. They operate with the same powers and police rights as employees of the public Forestry Service. In specific, when game guards locate a violation of environmental law during their controls, they have the right to perform an arrest, confiscate the hunting gun, the hunting license, illegally hunted game and the means with which the illegality was committed. Subsequently, game guards file an official lawsuit to the Forestry Service (which is the supervising authority) and the case will then be automatically transferred to the Court of Justice.
Game guards control all types of violations concerning illegal hunting activities (time and season of hunting, species harvested, respect of bag limit, possession of valid hunting license and much more). Most importantly, they do not only control illegal activities concerning hunting and poaching, but all kinds of illegal environmental activities. Thus, game guards play an important role in conserving biodiversity.
Game guards are employed by hunting organisations, coordinated by the Hellenic Hunters' Confederation. Overall 350 game guards are active in Greece and continuously patrol, both within protected areas (SCI, SPA, National Parks) and non-protected areas.
The total cost of game guards reaches annually 7.000.000 Euro. The funding is completely covered by Greek hunters' annual contributions, in form of annual fees which hunters pay when they renew (or first issue) their hunting license. No other type of funding, European or national has ever (nor will be) used.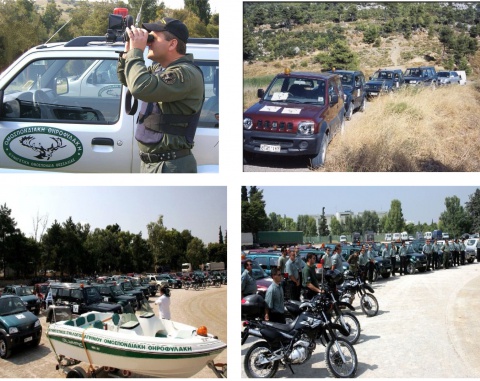 Due to the broad geographical distribution of game guards in Greece, their intervention at any location where an illicit act has been denounced can be realised within half hour. This robust network of game guards secures a high level of protection in all geographical locations of the country. 
The Game Guard Body has a full schedule patrolling in the field during 365 days per year and 24 hours per day. From 2000-2013 overall 1.341.317 inspections were realized, 23.734 offenses were officially filed, 6.5 million kilometers were covered annually and 5.000.000 hours of patrolling were completed.
During the European Congress on the Illegal Killing of Birds (Larnaca, Cyprus, June 2012) Birdlife International estimated in the official proceeding of the congress that poaching in Greece has been decreased considerably and has very small intensity. See data here.
Game guards also participate to several scientific and research programs funded by the Hellenic Hunters' Confederation as well as research programs funded by the hunting federations.
The main aim of their participation in research programs, such as the "ARTEMIS I", "ARTEMIS II", "Phenology of bird migration" and "Wildlife Habitat Improvement", is the continuous and consistent monitoring of various game species' and non-game species' populations. These specialised personnel are working on the ground day and night, throughout Greece, and thus have the unique capability to collect valuable raw data which will produce the adequate knowledge for rational, evidence-based management of game species and hunting in the country.
A large number of observations are gathered each year by game guards for various research programs and are then directed to specialised scientific teams for data analysis. The produced results indicate game species' population trends, harvest trends, sustainability of harvest, dates of pre-nuptial and post-nuptial migration. Based on this information specialists are able to locate possible problems and give insight to possible solutions which are then proposed and implemented by the hunting organizations.
The results are also officially submitted to the Ministry of Environment in Greece each year in the form of a complete annual study and the administrative authorities take this data into consideration for the publication of the annual regulation for hunting each year before the opening of the season.  
Game guards are continuously evaluated by their employers with a strict point system which measures their efficacy in the field. In the case of a continuous low performance for a long period of time, after a number of notifications from the employer the Game Guard is substituted.