Saison de Chasse
16 May 2014 - 09:00
to
19 May 2014 - 16:00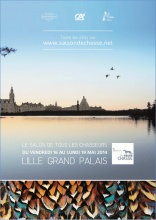 The Saison de Chasse in Lille will open its doors for European hunters for the first time in May 2014. 
Taking place in the Grand Palais of Lille from 16 to 19 May the event focusses on hunters in the region between Antwerp and Paris. A variety of suppliers related to hunting territories, firearms and optics, equipment for hunters, hounds and territories and the art of living will be using this new forum to interact with European hunters. Furthermore, themes highlighting the role of hunting in society, especially hounds, gastronomy, photography, art and fashion will be featured.
Please find more information on the Saison de Chasse website.